Today, milKit launches its first ever tyre sealant following the successful introduction of its first two products last year.

After the successful milKit valve system and super-light, portable tubeless booster, the Swiss innovators from Sport Components Ltd has launched its own sealant - and it looks to be setting the bar pretty high.

The new sealant performs as you would expect and contains no ammonia or other aggressive ingredients. It is environmentally friendly, anti-allergenic and does not corrode rims and tires.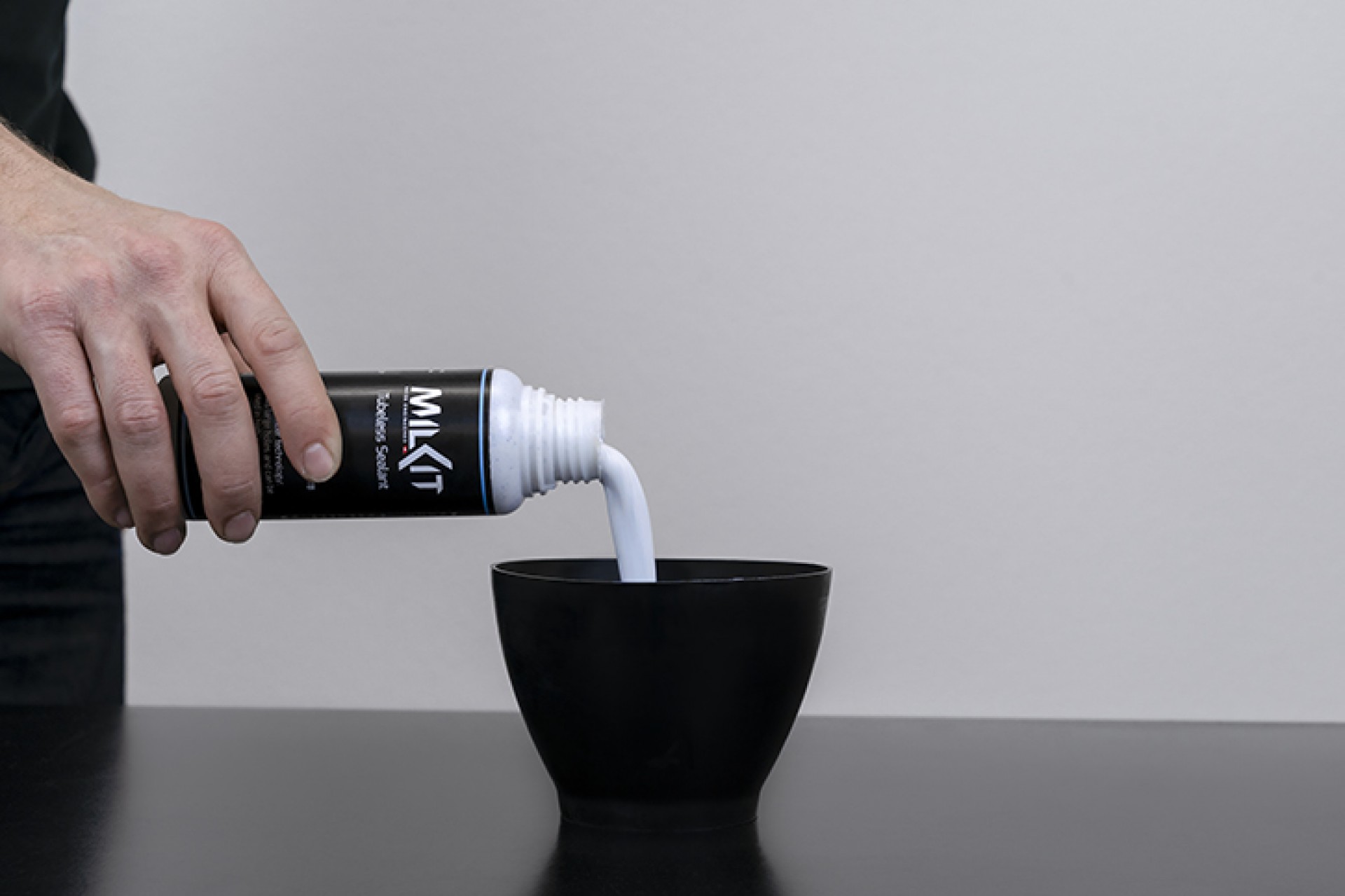 One of the main advantages of this new sealant is that it always remains a homogeneous liquid. The bottle therefore doesn't have to be shaken before use. Additionally, the microfibers (which play an important role in sealing large holes) are ever-present in the liquid and do not remain at the bottom of the bottle or tyre. This means that the sealant has a significantly improved performance and fixes slits in the tyre up to 6 mm in length. In the tyre, the sealant does not decompose into rubber particles (rubber balls) and an aqueous residue but it dries evenly and slowly to remain functional longer than comparable products.

The sealing effect of the microfibers works very well at high pressure, making the sealant ideal for use in road and gravel tubeless tyres.

In order to guarantee that the inside of the tyre is covered with sealant - even on the sidewalls - the milKit sealant sticks better to the tyre wall than thin latex products. It can also be used in combination with CO2 cartridges and can be easily diluted with water and washed off if necessary. With an application range for temperatures between -20 to +50° C / -4 to 122° F, the milKit sealant is well prepared for the most extreme conditions.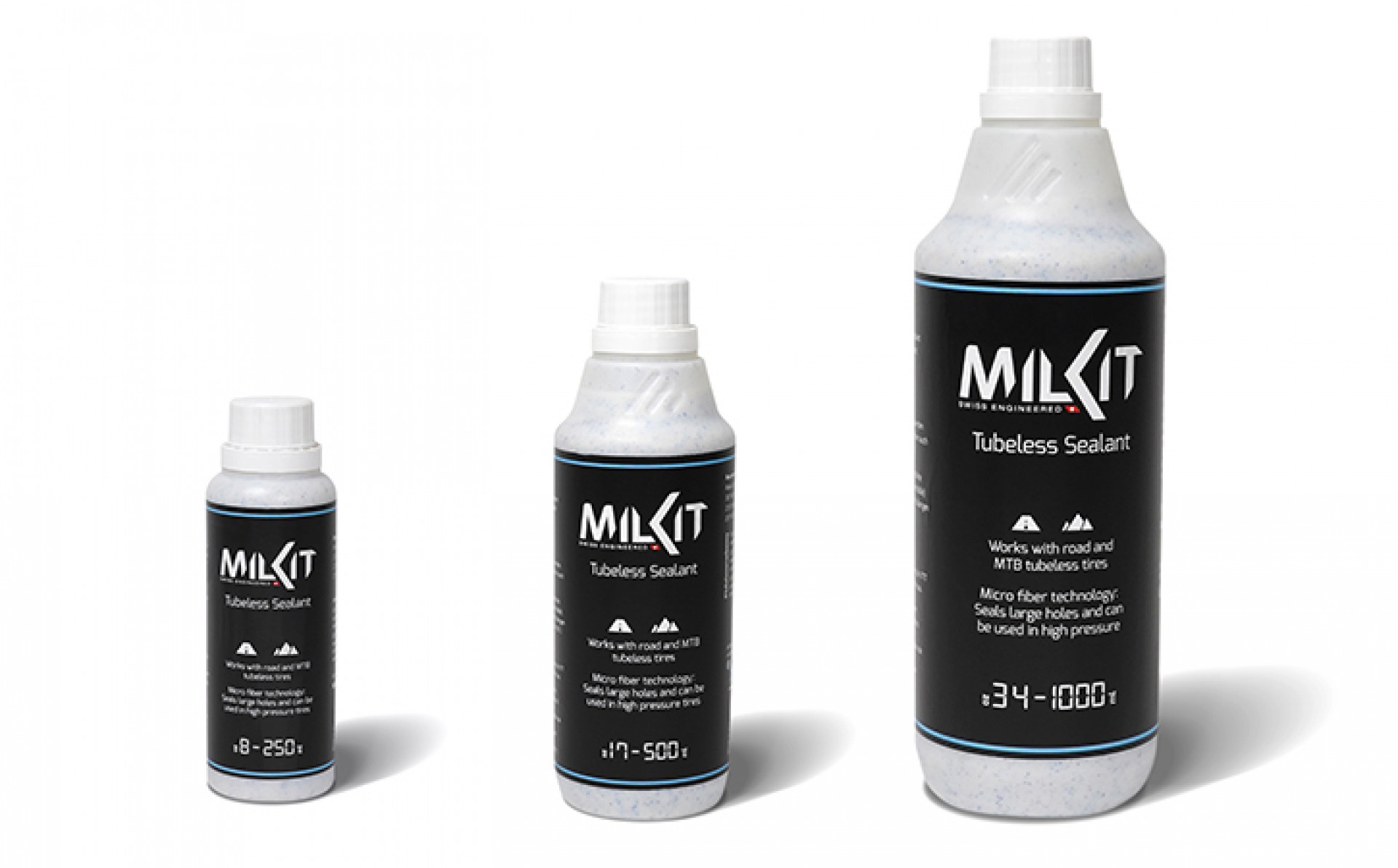 milKit's new sealant has already been ridden and tested by several pro MTB teams and is now available to consumers on the market in four different practical bottle sizes.

Pius Kobler, co-founder of Sport Components Ltd is pleased to announce the launch of the new sealant: "We have known for quite some time that we are on the right track with our sealant, as we know the weaknesses of previous products from our own experience. Now we are very pleased that we are starting out with our own sealant and we will be able to simplify the lives of our (tubeless) customers even further. Tubeless made easy!"

The advantages of the new milKit sealant in an overview:

Synthetic latex: No ammonia, no horrible smell, no damage to rims and tires. Non-allergenic, non-hazardous.

Stays in solution – no need to shake it up

Dries evenly, no rubbery lumps to remove

Lasts longer that other sealants

Covers tire and side wall better than other sealants

Fixes slits and holes up to 6 mm length

CO2 compatible

Works from -20 to +50° C / -4 to 122° F

Aramid microfiber technology: Stronger puncture sealing capability - even at high pressures (road tubeless)
The milKit sealant is available in the following bottle sizes:

milKit sealant 250ml / 8 oz @ £13.99

milKit sealant 500ml / 17 oz @ £19.99

milKit sealant 1000ml / 34 oz @ £29.99

milKit product family

milKit compact, valve and syringe system – in four valve length options (new also 45mm): from £44.99

milKit valve pack, replacement valves in four valve lengths: from £19.99

milKit tubeless booster 0.6L / 20 oz and 1.0L / 34 oz: from £39.99

The milKit sealant is now available to order through www.freewheel.co.uk.